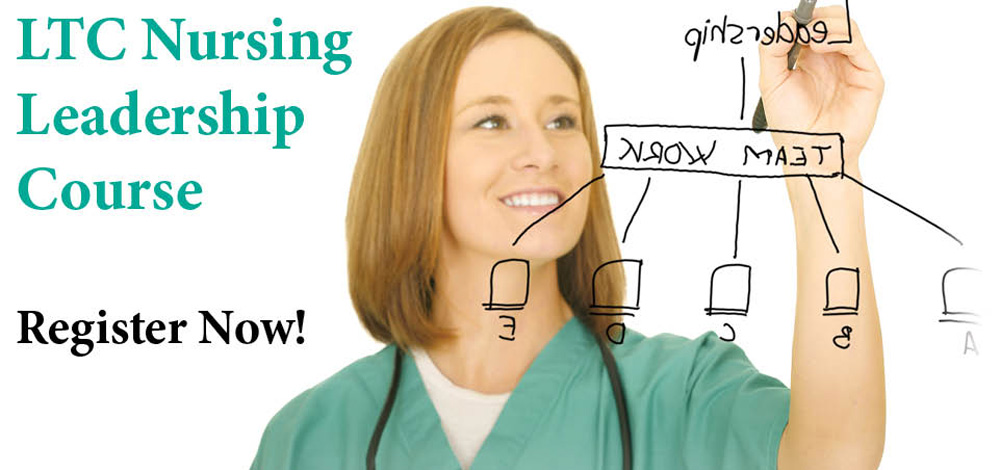 The Long Term Care Nursing Leadership Course is designed to provide a comprehensive training program in leadership, clinical, regulatory and legal information that every Long Term Care Nursing Leader is required to know.
Must Attend All Dates
May 20-22 & June 19-21, 2019
Wintergreen Resort & Conference Center, WI Dells
The role of director of nursing, as well as other nursing leader positions, within a long term care organization requires a different set of nursing skills, knowledge and mindset – that of a leader. This leadership course was designed to familiarize the Director of Nursing and nurse leaders with those skills, as well as various federal and state regulations impacting long-term care facilities in Wisconsin. With nursing leadership being expected to help the individual facility comply and respond to regulators, this course will walk the nursing leader through the intimidating survey process from preparation for surveyors to writing a plan of correction.
Because of the high customer expectations, the environment in a long term care facility is challenging. To meet those demands it is essential for the long term care nursing leader to be savvy in clinical practice standards, human resource management and financial stewardship. Each three-day session will explore topics that lead the attendee to gain knowledge in these areas. In addition, the attendee will leave with a Director of Nursing Resource Manual that provides examples of policies, procedures, and user-friendly resources.
After the sessions the participants will be able to:
Implement clinical practice standards to assure state/federal regulatory compliance and customer satisfaction.
Identify and apply ways to improve staff accountability and retention while improving the ability to think critically and prevent re-hospitalization to position the facility positively in the new long term care continuum while improving staff satisfaction.
Define and calculate PPDs and manage the nursing financial budget using a creative nursing structure that offers service the healthcare community has come to expect.
Apply Quality Assurance and Process Improvement (QAPI) and how to measure outcomes through the utilization of internal and external data that assures both customer and staff satisfaction.
The Long-Term Care Nursing Leadership Course covers three modules at the core of long-term care nursing leadership.

Leadership Skills, Clinical Practice & Compliance, and Budget Management
Leadership Session: Leadership skills are essential to successful management of staff, clinical situation and system implementation. This program will give the attendee knowledge to evaluate their own leadership style to identify how that style will affect the people they lead and to learn strategies to use their individual strengths to enhance their leadership ability. 1. How to be an effective leader 2. Staffing Best Practices: Hiring, Firing, Human Resources and Retention 3. Nurse Practice Act 4. Education
Clinical Practice/Compliance: Clinical skills are refined and mastered during our formal education process. Understanding how to identify best practice, implement best practice and assure you have adequate auditing process in place to assure compliance to state and federal guidelines is the extension of those clinical skills the attendee already possesses. Our facilities clinical performance is measured and publicly reported through the Quality Measure ,so it is imperative leaders have the skill set to implementand positively impact those measures. A major portion of our job as long term care leaders is to assure our facilities have the ability to perform well during annual survey process. 1. MDS overview – what the DON needs to know 2. Delirium /Cognitive loss/ dementia 3. Visual function /Communication /Hearing 4. ADL/ Rehab potential /Falls 5. Urinary incontinence/ indwelling catheter 6. Psychosocial well-being /Mood state/Behavior symptoms/ Psychotropic medication use 7. Nutritional Status/Feeding Tubes/Dehydration/ Fluid maintenance /Dental care 8. Pressure ulcers 9. Physical Restraints 10. Pain 11. QAPI 12. Investigations and Reporting 13. The role of the Medical Director, Pharmacist and Dietitian 14. Medication Management 15. Infection Control 16. Hospitalizations/ Readmission 17. Policies and procedures 18. Survey Process 19. State operations
Budget management: Fiscal responsibility is the only way each of our facilities can survive in the cost conscious environment that we work. Understanding and being able to manage our staffing, supply/inventory is a large portion of being successful. Knowing what resources are available and how to use them to best spend your scare dollars is imperative. Exploring and understanding staffing hours per patient day and how that impacts both the care you provide and the bottom line of your department will make you successful in identify barriers and finding solutions. 1. Revenue Sources 2. Understanding and managing nurse expenditures 3. How to put it all together
$799 for the Course, due upon registration.  Price is subject to change
Please call Melissa at 262.670.6520 for details.
Wintergreen Resort and Conference Center 60 N. Gasser Rd. Lake Delton, WI 53913 Exit Hwy 12 off of Hwy I-90
Room blocks have been set up under WI DON Council at the Wintergreen Conference Center. The room rate at the Wintergreen is $92 per night for a single, plus tax, if applicable. Price is subject to change.
The room block expires three weeks prior to the session start date.
Call 800-648-4765 to make your reservation.